2018-04-10 Three Points Hike
Date: Tuesday, 2018-04-10
People: Jason and Jessica
Distance: 13.5 mi
Starting Elevation: 5246'
Gross Elevation Gain: 2953'
Total Time: 5:20

Our route is posted on CalTopo – we started at Three Points, and hiked the route clockwise. A more extensive photo album with high quality pictures is on Google Photos.
Notes
We hit the road just before 7:00 and beat most of the commuter traffic, starting the hike at 8:30. We hadn't done a lot of research, but the plan was to follow roads and the Pacific Crest Trail (with just a tiny connector between them), so we weren't very concerned. From Bandido Campground to Alder Saddle was unfortunately paved, but the rest was narrow dirt road or well-maintained trail.
Once we connected with the PCT, we were feeling good so we decided to hike another half-hour up the trail. From there, we scrambled up to some rocks at a local high point, took some pictures and turned around. It seemed like there was a relatively clear path that could eventually take one to the peak of Pacifico Mountain, but we decided against it on this trip. If we do head up at a later date, it will probably be by any of the many trails and roads that lead to the peak.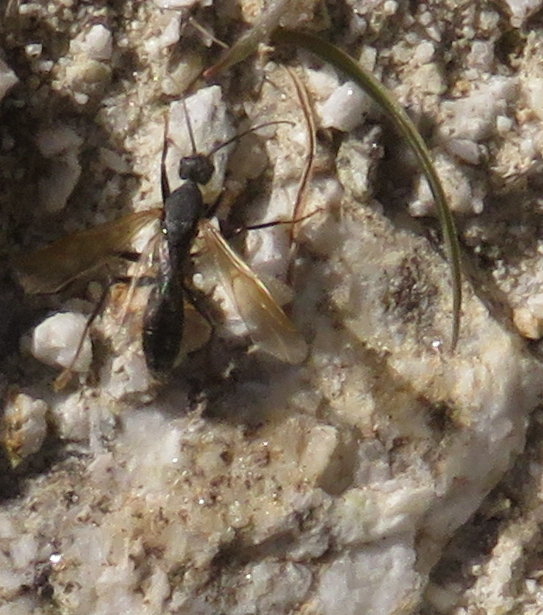 Aside from the San Gabriel standards of giant Coulter pine cones and uncountably many lizards, there were a few sights that I found interesting. One was a dense swarm of flying ants when we were at Alder Saddle. The picture just shows one on the ground, but they were common in the air and unpleasantly crashing against my face when I would look up wind. This is apparently simply how ants reproduce. According to Wikipedia, this may be even more unpleasant for the ants then it was for me:
During "the quick and violent mating," the male literally explodes his internal genitalia into the genital chamber of the queen and quickly dies.
Yuck.
Also at Alder saddle was a giant, heavily graffitied cement spool labeled LARFCP 1947 ALDER SADDLE. There are apparently similar structures in other places in the San Gabriels, but I've been unable to find out exactly what LARFCP was or is, or how the spool was used. Can anyone tell me?
Another new-to-me sight was poodle-dog bush. Jessica pointed this out, and I'm glad I can now identify it – it causes skin irritation akin to poison oak.
Finally, we saw roughly a dozen PCT thru-hikers, gamely making there way towards Canada. Some were willing to chat for a moment or two, others were intent on moving forward as quickly as possible. All were inspiring.